JOIN the JAMMM
The Jing Advanced Massage Mentoring Membership (JAMMM) -The professional development programme for Bodyworkers
What we started out to help massage therapists in the pandemic era has released a proper revolution in massage that is here to stay.
Membership has its privileges:
Bi-monthly mentoring sessions based on the members' questions of the day. All can contribute. All are heard. Discounts on select Jing courses.
Online CPD course material on how to:
re-open your clinic
diversify your practice
build your client base
do a consultation online
treat Musculoskeletal pain conditions in person and via zoom
be a wellness provider online 1 to 1 to groups over 100
bring meditation and mindfulness into your sessions
be ethical and legal
This is a course that grows with you – every few weeks more exciting and dynamic content will be added to the course, so as your business evolves – we are here to support you.
PLUS free access to the Jing led Mini CPD courses, click here to check them out!
Subscription price: £29.99 per month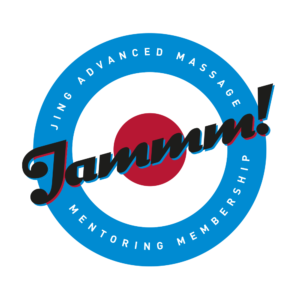 3 month minimum subscription period
Grow your business and create your dream massage practice
Expand and draw on your existing knowledge of client pathology and self-care to offer online appointments to help conditions such as low back pain, neck and shoulder pain, headaches, fibromyalgia and hip and knee issues.
Using simple and safe evidence-based self -care strategies such as self trigger point, stretches and fascial release, this course will help you to help your clients at this current time of social distancing.
Vibrant teachers, Rachel Fairweather and Meghan Mari, authors of 'Massage Fusion: the Jing method of treatment for chronic pain' will lead you hand in hand every step of the way to creating a new model for your business.
You will learn
Dynamic step by step client self-care protocols for common musculoskeletal complaints including low back pain, neck and shoulder pain, knee problems, headaches, fibromyalgia and chronic pain
How to safely adapt your consultation techniques for online delivery
Boundaries and professionalism in delivering online self-care
Listening skills
Evidence and theoretical basis for self-care including the neuroscience of chronic pain, the biopsychosocial model and the psychology of external and internal locus of control
Safety considerations, contraindications and precautions for online self-care
Marketing techniques to keep and grow existing businesses
Technical advice on using different online platforms
Access to downloadable handouts and other resources to give to your clients

Exclusive to JAMMM: Guests Lecturers Coming Up!
Autumn schedule  TBA…
ALSO FREE with your JAMMM Membership: Select virtual classrooms
Mini CPD: Pathology Series: Headaches and Migraines – Wednesday 17th November 2021
A few inspirational select Lyrics from Paul Weller one of the Masterminds of the JAM…
But you never know until you try
How things just might be
If we came together so strongly
You see things can change
Yes and walls can come tumbling down
Those who have and who have not
Those who are with and those who are without
'Cause unity is powerful
Lights go out, walls come tumbling
(Down) You'll be to weak to fight it
(Down) oh unless we're united
(Down) oh will you deny it? Oo
'Cause unity is powerful Lights go out, walls come tumbling down
'Cause unity is powerful
For full course subscription T&C's please click here.