Learn more about our Open Evenings

Learn more about our Online Massage for Friends & Family course

Learn more about our Hands on Massage course for Beginners

Jing Massage Open & Practice Evenings
£15: First Tuesday of most months, 6pm-9pm
If you are a Jing Student looking to practice head HERE to snag a student discount to come in and practice your new knowledge with amazing teachers Meghan & Teresa.
Dip your toe into something new!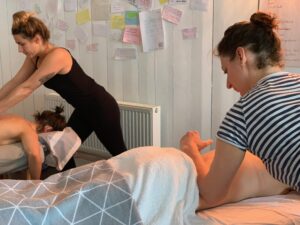 Whether you're looking for a side hustle, a new passion, a change in career or just an evening where you try something new – join one of the UK's best massage schools Intro to Massage evening. Learn to give massage, get massage and maybe begin a journey that could change your life!
You can learn more about becoming a massage therapist, give it a go and see how you like it or have a fun and unusual experience with a friend.
these evenings are a few hours, 6pm-9pm, of both being massaged and trying it yourself. Our beautiful classroom in the centre of Brighton is a wonderful place to get on touch with yourself.
It's a fantastic way to spend an evening – and we've had many attendees go on to actually become therapists!
Massage is a great partner skill for yoga or pilates instructors, personal trainers or if you practice any complementary therapies – if you want to grow your business this could be the way!
Try something new, change your life…
Here at Jing we pride ourselves on creating an inclusive, supportive learning environment for many different types of learners.
We welcome all expressions of human.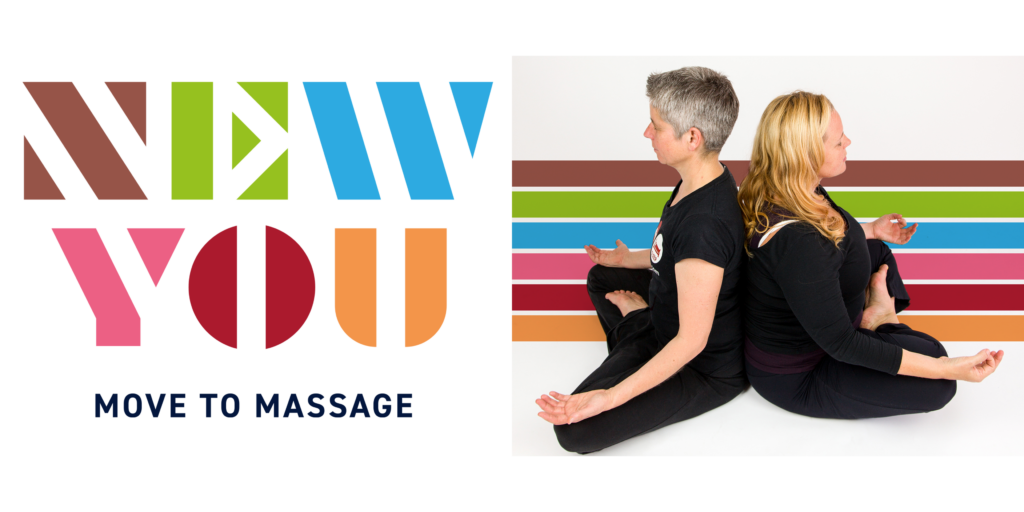 Learn Massage for Family and Friends – Online Course
Give fantastic massages to your loved ones with Jing's new online course for total beginners to massage. It's short, sweet, and teaches you kick-ass massage techniques!
Unlock the art of massage, you'll be popular for sure! It's a quick, accessible, and effective way to master massage techniques and share the gift of relaxation with the people in your life who need it. Start your journey today!
Course Highlights:
Anyone can learn to give a fantastic massage with just a few strokes.
Simple and effective techniques bundled for quick and easy learning.
Developed by 30-year massage industry leaders for accessibility and effectiveness.
Course Details:
Duration: 7 video lessons (Approx. 35 minutes total)
Format: Online with handy technique printouts
Price: £47 (including VAT)
Who Is This Course For?
If you:
Have an interest in massage and want to learn more.
Want to help friends and family reduce stress levels.
Appreciate the benefits of safe and beautiful touch.
This course is your perfect match!
Bodywork Beginnings – Massage for Beginners Course.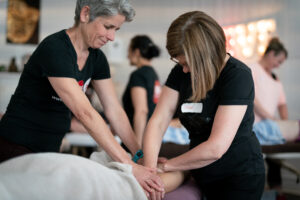 Our introduction to the beautiful world of massage is your first step in training to become a professional massage therapist and the opportunity of a lifetime to change your own life path. If you need a side hustle to find a new and rewarding profession then bodywork is a fantastic option. On this beginners massage course you will learn a full body massage protocol the Jing way. We teach you how to use your own body mechanics to protect your own body while giving treatments and help answer all your questions about how to start a massage business.
7 days hands on and 3 days of supported self-study at home, working through our online learning resources.
Get instant access to an online course as soon as you sign up containing useful information and video lessons all about massage!
The course is delivered in a retreat style in our gorgeous classroom by the sea in beautiful Brighton.
The only pre-requisite for joining Bodywork Beginnings is curiosity, passion and a desire to change people's lives for the better.
You will start your day with a movement class of tai chi, yoga or sports stretching. There will be elements of Eastern and Western Philosophy and sessions of meditation within the massage therapist training. Designed by the internationally celebrated Massage Industry experts Jing Directors Meghan Mari and Rachel Fairweather, there is no other course like it.
It's not only a time to learn to help others but a time to check in on yourself, your life goals and direction. Jing is a special place to learn.
To reserve your place, please either give us a call in the office on 01273 628 942 or click the buttons below to buy online.
What will you learn:
A powerful deep tissue relaxation massage protocol for the entire body. You will give and receive massage every day in the classroom.
How to make modifications for different bodies and different needs.
A massage that is versatile and can be used for deep relaxation as well as part of a health recovery plan for injury from sports or life activities.
How to use your own body mechanics to protect your own body while giving treatments.
Fundamental Musculo-Skeletal anatomy in a fun and creative way (Be prepared to dance and have fun!).
The basics of the massage industry.
How to set up a private practice and go into business for yourself!
After the course:
You can go into private practice.
You are able to get business insurance (We recommend Balens Insurance), and start practicing as a massage therapist!
You will meet the requirements to move on to the 1 year course Advanced Clinical Massage Therapist qualification.
To reserve your place, please either give us a call in the office on 01273 628 942 or click the button below.
Course Cost:
This introduction to massage course costs £1250.
We will give you a special discount if you sign up early and pay upfront – £950 – the Early bird price is available up until 6 weeks before the course starts and payment plans are available up until 3 months before the course starts!
If you book early but would like to spread the cost we will give you a slightly smaller discount – £1050 (3 payments of £350)
Testimonials