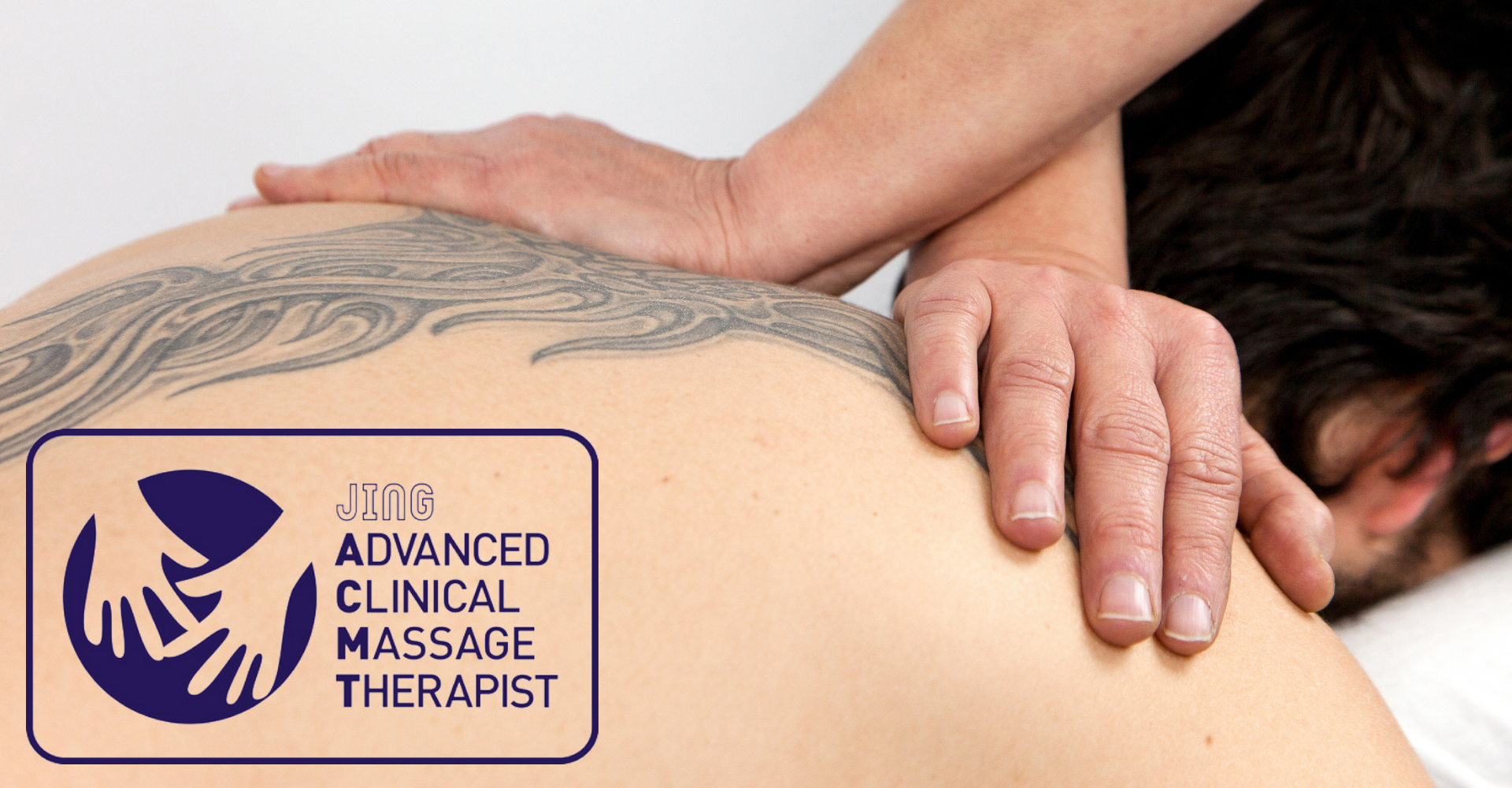 What is the ACMT?
If you're a qualified massage therapist and you want to grow your business by treating over 80 chronic pain conditions (including herniated disc and whiplash) using advanced clinical and sports massage techniques then this is the massage course for you.
The ACMT (Advanced Clinical Massage Therapist) programme is our professional advanced massage qualification that immerses you in the Jing Method, using trigger point therapy, myofascial release, sports stretching and Eastern massage techniques too. Get results with chronic pain in 1-6 sessions- PLUS the skills and confidence to build a successful massage practice and to get the life you desire. It's the first year of our BTEC Level 6 clinical and sports massage qualification.
The course is fully accredited by EdExcel, the SMA and the CHP and is recognised as both a qualification in advanced clinical massage AND sports massage.

Successful graduates can also progress onto Years 2 & 3 of our full BTEC Level 6 (degree) – this certification is unique to Jing and is the highest qualification in massage in the UK.
Advanced clinical massage AND a sports massage qualification in one
In addition to being a recognised and respected qualification in advanced clinical massage and the Jing Method, we have worked with the SMA for the ACMT to be recognised as a sports massage qualification.
Modules on advanced stretching and sports and event massage will enable you to feel confident treating at sporting events and working with athletes.
Graduates of the ACMT are able to gain full membership of the Sports Massage Association (SMA).
With this clinical and sports massage course we offer 2 different options:
There are 2 options to maximise your learning
FULL ACMT Advanced Clinical and Sports Massage Qualification:
2 units of a BTEC level 6 in Advanced Clinical and Sports Massage and a Level 4 Sports Massage
PRICE – PAY UPFRONT £3100 / PAYMENT PLAN 12x monthly payments of £275 (£3300 in total)
ONLINE ONLY ACMT: PRICE PAY UPFRONT £1500 / PAYMENT PLAN 10x monthly payments of £165
This option offers online only learning and interactive zooms without the hands on days (this option is CPD massage training, not full qualification – hands on days are required for full ACMT qualification). You get all the theory involved in treating chronic pain and additional support with the live zooms – you can easily upgrade to the full qualification at any time.
A bit about the Jing Method
The Jing Method is a fusion of advanced techniques including trigger point, fascial work, acupressure, stretching and tailored self- care that aims to reduce chronic pain in 1-6 weekly sessions.
Developed by legendary Jing Directors, Rachel and Meg, the Jing Method has been successful in helping thousands of massage therapists build the practice and lifestyle they really want. Meghan and Rachel's book "Massage Fusion: The Jing Method for the treatment of chronic pain" reached No. 1 in the Amazon bestseller physiotherapy category!
Course structure
At Jing, we are famous for our interactive teaching style that suits many different types of learner. If you're dyslexic, hated school, are studying in a second language or living with neurodiversity – don't worry- we've got your back!
The course is a mixture of:
• Online platform: Immediately on signing up you will get access to 7 of our online modules packed with information about getting results with common tricky areas like low back, neck and shoulder, hip and pelvis and much more. Worth £1500 alone these online modules give you the flexibility to study at your own pace and time. The online modules have videos, interactive quizzes to test yourself as you go along and beautiful downloadable PDFs
• Ongoing support: Our monthly live Zoominar virtual classrooms with passionate Jing teachers will keep you on track with your learning. Our Facebook group and supportive 9-5 office staff means there is always someone there when you need them.
• Hands on immersion days: Studying online means that we can pack even more value into our hands on days. Come to sunny Brighton 3 times over the year for four day immersion intensives to learn directly from the dynamic Jing team.
Accreditation
The course is fully accredited with EdExcel (Pearson), the SMA (Sports Massage Association) and the CHP (Complementary Health Professionals).
In addition to being qualified in advanced clinical massage, graduates can join the Sports Massage Association (SMA) and call themselves sports massage therapists.
Graduates can also join the massage register of the CNHC which is the benchmark for professional standards in the UK. As the ACMT is also the first year of our BTEC Level 6 all the material is accredited at Level 6.
Book the ACMT
Assessment
We are proud of the Jing name and qualification so it's important to us that you reach a high standard with this training. But don't worry – we know EVERYONE hates assessments!
We encourage you every step of the journey and give you ongoing supportive feedback about areas to work on in your practice. Our theoretical exam is taken online from home and self-marking quizzes as you go through the online content make sure you are well prepared on the day. If you don't reach the standard in a section of the assessment the worse that can happen is that you have to take that section again.
The practical assessment is usually an enjoyable experience for students, working on a client and getting one to one feedback from a tutor. Before your final assessment you will have a mock where we will take you through areas of strength and areas for improvement so there is plenty of time to be your very best on the day. Don't worry – we've got your back!
Course dates
Cost and financing
We don't want lack of money to be an obstacle to your growth and development as a massage therapist.
Our generous monthly PAYMENT PACKAGES mean you can spread the cost of the course over 12 months for the full ACMT and 10 months for the online ACMT. Payment packages for the full ACMT start as low as £275 per month.
Our ONLINE ONLY ACMT is our most affordable option. You will study the same skills for a fraction of the price – this works out as little as £165.00 a month.
Full ACMT and online only ACMT explained
Which course is right for you? Online only ACMT or the full package? Our handy table below sums up the differences in the 2 offerings.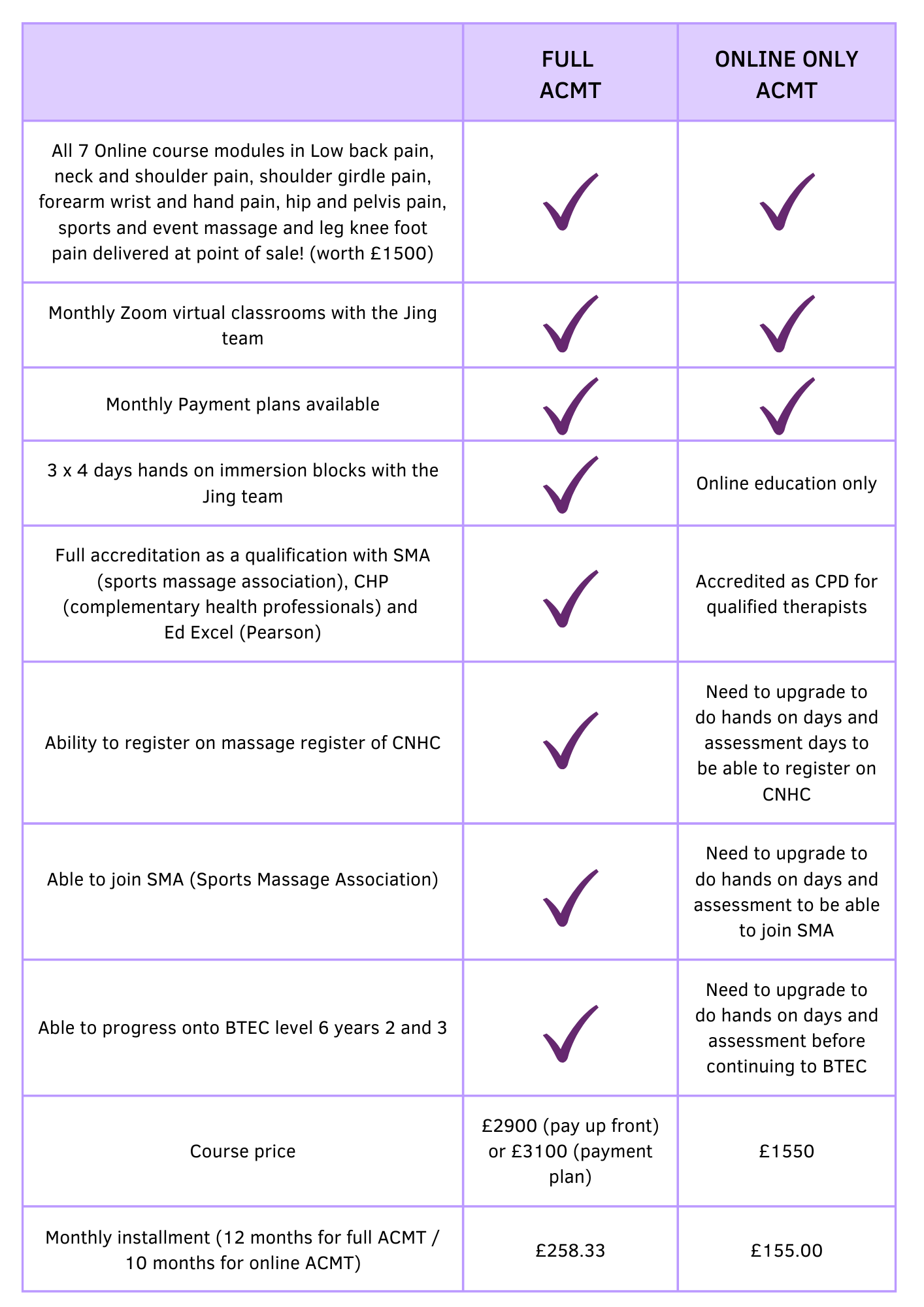 Full Course Booking Options
Please read the terms and conditions before booking

Online Only Booking Options
Please read the terms and conditions before booking