This exciting certification will give you the skills and the recognition as an advanced practitioner. Learn cutting edge techniques to be efficient and confident in your ability to treat pain. This course combines the most fundamental of the JING Advanced series for treating pain and injury, with specialised mastery days so that you will be able to offer the best treatments to your clients. This is a fantastic stand alone course, or can form year one of the BTEC level 6 Professional Diploma in advanced clinical and sports massage.
As this is a CPD (continuing professional development) course, you will need to hold a qualification in massage to attend. If you are not already a massage therapist you will need to take the Prerequisite course: Bodywork Beginnings – The Jing way (or an alternative equivalent).
We offer regular structured tracks to enable you to qualify for our Certificate in Advanced Clinical Massage. Please have a look at our time table, please click on the below image to make it larger!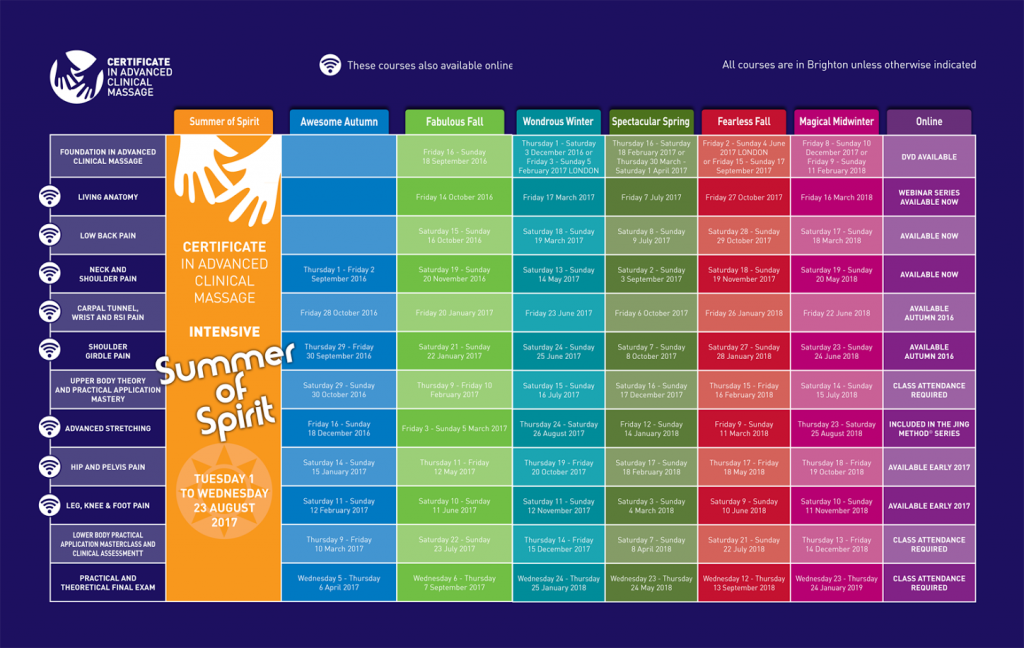 Also coming up this summer we have the New and Exciting ACMT summer intensive course! That's right – the entire ACMT course in the month of August! For dates and further details please click on the below arrow, or call the office on 01273 628 942
JING has been at the forefront of Clinical massage training in the UK for almost a decade. It is our aim to work with individuals who want to be the best in their field. Our postgraduate series of courses combines techniques from around the world to help you reduce pain and increase range of motion for your clients.

ACMT Time Table 10-12 month schedule
---
Timetables and Booking
If a subject is listed more than once under any of these headings, you can attend any one of the instances of that course:
Dec 2016 – Jan 2018
Mar 2017 – May 2018
Sep 2017 – Sep 2018
Dec 2017 – May 2019
Also coming up this summer we have the New and Exciting ACMT summer intensive course! That's right – the entire ACMT course in the month of August! For dates and further details please call the office on 01273 628 942