Everywhere you look at the moment there is mass anxiety about the impact of the coronavirus or to give the pathogen its formal name, COVID-19. The media gives us constant updates on the latest infections and we hear reports of people stopping shaking hands, hugging, avoiding public places or stockpiling hand sanitiser (currently going for £60 for a small bottle on Amazon!).
In a profession that only exists to give caring touch, where do massage therapists stand in the corona virus situation?
In times of crisis I like to turn for inspiration to those far wiser than me – in this case the advice of the Dalai Lama who famously said "There is no point in worrying. If you can do something about a situation then no need to worry. And if you can't do something about a situation then also no need to worry"
Sage words indeed and never more pertinent. Although there might be certain things that are outside our control in terms of transmission there are plenty of things we can do to protect ourselves and our clients.
So let's firstly look at the things that we can do that are within our control. There are 2 aspects here – protecting ourselves as massage therapists from exposure to COVID-19 from our clients and also protecting our clients from transmission to or between massage clients.
Please note I am not holding myself up as a medical expert here – the information presented here has been researched from advice from NHS UK and conversations with public health specialists. There is still lots we don't know about COVID-19 so I would urge all massage professionals do stay up to date via trusted internet sources.
Protecting yourself as a massage therapist from exposure to the corona virus
Screening clients prior to treatment:
At the moment it feels like good practice to carry out additional screening practices before clients arrive.
Remember you are in control here – if you have any concerns that a client might be a risk it is perfectly OK to ask them to rebook after the recommended quarantine period of 14 days. Also if anyone slips through the net and arrives in your treatment room displaying flu like symptoms or that you feel concerned about, you can suggest that they rebook for a couple of weeks time.
Specifically you would want to screen out treating any clients who have visited any high- risk countries within the last 14 days. Keep your eye on the list as it seems to be changing daily. Government advice is that anyone who has visited high risk countries since 19th February should be self isolating for 14 days whether or not they are displaying symptoms.
Since first writing this article, cases in the UK are on the rise and expected to increase over the coming weeks and months. There are now definitely cases in the UK of transmission without exposure to a known source or travel to a high risk area. Expert medical advice suggests that to be on the safe side, if the client is displaying any flu or even cold like symptoms- fever, cough, bodily aches and pain- however mild it would be advisable for the therapist to rebook for when they are feeling well.
Not all sufferers will display severe symptoms and it may be hard to distinguish between a common cold, especially early on in the course of the disease.
Remember you don't want to lose the client so don't just let them cancel- rebook for 2 weeks or so time and check in with them before they come.
If you are in the habit of sending out pre-treatment questionnaires it might be a good idea to add specific questions such as
1. Have you visited any of the following countries in the last 14 days
2. Are you currently experiencing any flu like symptoms – cough, fever shortness of breath.
If the client is undergoing self-isolation as a contact of a confirmed case or because they have had recent travel from a high risk area the therapist should wait until the 14 day quarantine period has elapsed to book treatment. (Clients may become symptomatic during this time and it risks transmission to the therapist.)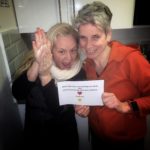 Wash wash wash those hands
The best way of protecting you and your clients against transmission is good old- fashioned hand-washing and respiratory hygiene – nothing revolutionary about that.
This simple school classroom experiment clearly shows the wondrous power of soap and water!
NHS advice is clear and simple:
DO
• Wash your hands with soap and water often. DO this for at least 20 seconds or 2 rounds of singing "Happy birthday"! As a massage therapist it is essential you wash your hands before and after each client
• Always wash your hands when you get home and into work
• Use hand sanitiser (minimum 60% alcohol content) if soap and water is not available
• Cover your mouth and nose with your tissue or a sleeve (not your hand) when you cough or sneeze.
• Put used tissues in the bin straight away and wash your hands afterwards
• Try to avoid close contact with people who are unwell
DON'T
• Touch your eyes, nose or mouth if your hands are unclean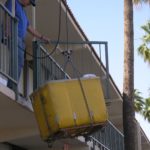 But what about the laundry? Additional considerations for massage therapists
As part of general infection control procedures you should ensure that your linens are freshly laundered with clean linens for each client. This is nothing new and is general good practice to prevent client to client transmission of all viruses and pathogens that can live on surfaces.
"But what about the laundry?" I hear you cry? "And the planet?!" All that washing!
There are several ingenious solutions to cut down on excessive laundry:
• Disposal couch roll to cover table and face cradle and/or disposable face cradle covers. Widely available, disposable couch roll or "elephant toilet roll" as it is known in the trade can be used and disposed of between each client,
• Using a sarong as a top cover underneath the heavier towel. This would still need to be changed for each client but there is less laundry and so much easier to dry than big bath sheets!
• An earlier edition of this blog suggested getting your clients to bring their own towels. However a trusted colleague from Australia (thanks Rebecca Barnett, Chief Executive Officer at Association of Massage Therapists!) pointed out that this could mean clients potentially bringing pathogens into the clinic on their own linens which is a good point. Rebecca is correct in that having your own laundered linens leaves you firmly in control.
Get the disinfectant out!
It is important in your clinic that you carry out frequent cleaning of high touch surfaces and regular environmental cleaning (including any shared toilet facilities).
Experts are still learning about the exact proportion of infection that is related to droplet from coughing or contact transmission through shared surfaces. We know that other coronaviruses are more persistent on surfaces than flu so environmental cleaning and hand hygiene after contact with high touch surfaces is a key intervention. The virus is susceptible to removal from cleaning with water and detergent and regular classes of disinfectant so there's no need to drench everything in Domestos! A disinfectant with 60% alchohol is recommended so check those bottles too!
Stones, heating pads and other tools
Remember that it is not just your hands that need washing between clients. If there is anything that is shared between clients you would have to make sure that is also sanitised. This would include hot stones or soft tissue tools that are sometimes used for fascial release.
This document is a great guide to level of cleaning recommended for massage therapists for general infection control – hit page 24 for a great summary.
Your own health
As a therapist you also have a duty of care to your clients to ensure that you are not likely to transmit the virus to them.
Sounds obvious but if you are displaying flu like symptoms you should refrain from contact with clients and call NHS 111 or go to NHS Online COVID-19 support for advice.
If you have had any recent travel to countries or areas with high levels of transmission you should follow any advice about self-isolation or minimising social contact.
The Gov.uk website has a lot of useful information. Although it is not specifically written for massage therapists, the advice for the general public and the section of community health care probably cover all the areas of interest.
This covers the general advice for most circumstances
There is also some useful information in this Guidance for social or community care and residential settings on COVID-19
Keep great records
Keep exceptionally good records and a log of all visitors to your clinic (not just clients) in case any contact tracing needs to occur.
Add a message to your website/social media page/email list reminding people to call ahead if they feel at all unwell and to cancel if they have flu like symptoms or have been travelling overseas.
Massage can help!
It is important to let your clients know that you are taking concerns seriously and that you are taking steps to ensure that transmission doesn't happen within your clinic. Containing anxiety is important at the moment so send round an email to your clients explaining what you are doing so they feel safe in your hands.
Furthermore, there has never been a better time for safe, compassionate touch. Research shows that massage is helpful not only for anxiety but boosting the immune system.
A Preliminary Study of the Effects of a Single Session of Swedish Massage on Hypothalamic–Pituitary–Adrenal and Immune Function in Normal Individuals
A Randomized Placebo-Controlled Trial of Massage Therapy on the Immune System of Preterm Infants
HIV Adolescents show improved immune function following massage therapy
Breast cancer patients have improved immune and neuroendocrine functions following massage therapy
Massage Therapy Research Review